Do you know that Jesus came to save you from the judgment Adam and Eve placed us under: Eternal death in the flames of hell?
Many think that Jesus came to judge us and to burn us if we don't listen…. But the simple fact is that we are already under the judgment that fell to Adam and Eve. Instead, Jesus came to give us a wild card – an extra chance – a free ticket to eternity in Heaven with God. Wow…. Pretty gnarly, really!! 😊
There is just this one thing… Adam and Eve chose NOT to obey God, which cost them EVERYTHING. The grace of God for us today is the fact that we get a new chance to accept God through Jesus and obey Him this time.
But we are saved by grace alone, right?
Why, Andreas, come on…. Obey and do all that stuff – did you forget about grace? After all, it says in Ephesians 2:8 BPH
"For by grace you have been saved through faith, and that not of yourselves; it is the gift of God."
Precisely…. Because we didn't deserve a new chance, but because of God's grace for us, Jesus walked the long painful road to the cross to give us another chance to BELIEVE in Jesus AND this time also to obey His commands. Because faith without works is dead…!
So, then, the grace of God is not that we are saved by faith (without works), but the grace of God is that He has given us a new chance to choose to obey Him, thereby taking part in eternal life with God, like He had planned from the very beginning.
Sorry if this is provocative to you, because lots of people are raised believing that three handfuls of water on the head as a baby saves us… And sorry to say – but that is truly false teaching!! Salvation comes from faith, which should preferably trigger obedience, such as baptism and all the other things Jesus commands us to do. But wow…. What a blessing, and what a gnarly life that follows when you obey and let Jesus take the wheel.
The grace of God, then, saves us BY THE POWER OF FAITH, which can NEVER stand alone without works/obedience.
James 2:18-19
But someone will say, "You have faith, and I have works." Show me your faith without your works, and I will show you my faith by my works. You believe that there is one God. You do well. Even the demons believe—and tremble!
So, according to the Bible, faith without works is worth NOTHING. You have to believe so strongly, that you are ready to hold FIRM to your faith in front of EVERYONE and ready to set yourself apart from 'the world'. In other words, a living faith will always translate into action.
Jesus is pretty clear on this subject… 😃
John 12:47-48
And if anyone hears My words and does not believe, I do not judge him; for I did not come to judge the world but to save the world. He who rejects Me, and does not receive My words, has that which judges him—the word that I have spoken will judge him in the last day.
Matthew 10:37-39
He who loves father or mother more than Me is not worthy of Me. And he who loves son or daughter more than Me is not worthy of Me. And he who does not take his cross and follow after Me is not worthy of Me. He who finds his life will lose it, and he who loses his life for My sake will find it.
Mark 10:29-30
So Jesus answered and said, "Assuredly, I say to you, there is no one who has left house or brothers or sisters or father or mother or wife or children or lands, for My sake and the gospel's, who shall not receive a hundredfold now in this time—houses and brothers and sisters and mothers and children and lands, with persecutions—and in the age to come, eternal life.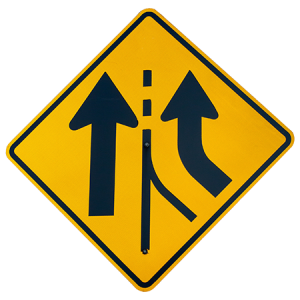 I know it can seem harsh and scary to choose Jesus and thereby leave the world behind…. But boy, what a blessing it holds as well. God is just so good to us…!!!
…so, when we are dealing with God, it is truly a blessing to change lanes FROM the world TO Jesus – and then eventually "merging" with Him.
Andreas Slot-Henriksen
February 2019